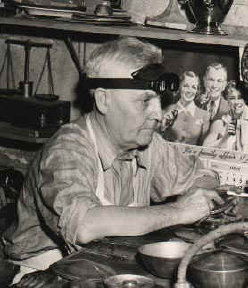 Jefferson T. Creviston, Sr., the founder of the company, was raised in Kansas City, Missouri and at an early age started his career as an apprentice gold and silversmith. After becoming a master craftsman, his career in the jewelry business was interrupted when he enlisted in the Spanish American War. When returning from the service to his country after 1898, Mr. Creviston, Sr. worked for Jaccard's Jewelry Company in Kansas City, Missouri as a master craftsman.
About 1908 Mr. Creviston, Sr. moved to St. Joseph and was an employee of the W. F. Hiles Jewelry Mfg. Company creating handmade jewelry. Jeff Creviston, Sr. worked at the Hiles Jewelry Company until 1916 when he and Ernest Pollock purchased the W. F. Hiles Jewelry Mfg. Company and in 1921 renamed it to Pollock and Creviston Jewelry Mfg. Company.
    From 1916 to 1930 Pollock and Creviston remained in business together with a group of 15-20 skilled craftsman, turning out outstanding quality handcrafted, made-to-order rings and fine pieces of jewelry, all made of gold, platinum and decorated with precious stones, such as rubies, emeralds, sapphires and diamonds.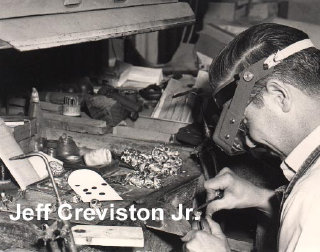 About 1929-1930 Jeff Creviston, Sr. dissolved partnership with Pollock and with his son, James J. Creviston, started the present Creviston and Son Jewelry Mfg. Company, Inc. in St. Joseph. They assembled a small group of craftsman skilled in making hand made jewelry and began making ecclesiastical goods in addition to specialty items of jewelry for the public.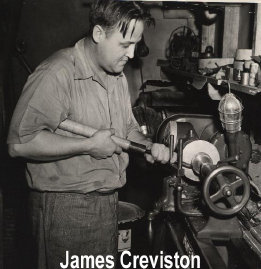 World War II halted the manufacturing of jewelry, so the company went to war its own way by making precision instrument panels for warplanes. The panel required precision work to the thousandths of an inch. After World War II, sons James and Jeff Jr. took over the company which resumed creating handmade jewelry and began making even more ecclesiastical goods. Among the outstanding church items was a double monstrance that was a year in the making. The large stationary monstrance, four and one-half feet tall, and the companion piece, a small benediction monstrance, were made from sacrificial gifts and jewelry donated by more than 1,000 lovers of the Blessed Sacrament of the Catholic Church. Sisters of the Congregation of Clyde, Missouri designed the monstrance's which were custom made by the jewelry company. Both monstrance's contained precious stones, precious metals and twenty-one colors of fired enamel.
Another example of the company's splendid ecclesiastical items was the Chalice of Reims, France, which was made by craftsman in the middle ages. Working from sketches of the Chalice of Reims, the two Creviston sons and their father worked patiently and painstakingly more than three months laboring with silver burnished gold, hand filigree, enameling and jewel setting that resulted in a chalice that experts declared was even more beautiful than the original chalice, previously considered the most beautiful and best proportioned chalice in the world. The elder Mr. Creviston set the jewels, James fashioned the chalice and did the enamel and filigree work, while Jeff Jr. did the engraving. Experts viewing the chalice said, "The work executed by these American jewelers is a real masterpiece that shows to the utmost degree the capacity of our American Craftsman to produce as fine a piece as has been produced in any other age."
In January of 1983, the helm of the Creviston Jewelry Company was taken over by the third and fourth generation of jewelers. Tim Creviston (son of Jeff Jr.), Jim Deatherage (grandson of James), and Craig Obermier are continuing the tradition of integrity and quality craftsmanship that has been a trademark of the company since the late Jeff T. Creviston, Sr. founded his gold and silversmith shop. In 1985, they moved the store to its current place, 510 N. Belt Hwy, and started the retail establishment we know it as today.
Repair work has always been a major part of our company and will be for many years to come. Crevistons jewelers all learn from hands on experience that has been handed down through the years. As we like to say, we do magic with jewelry. It has been a very important part of Crevistons growth into the retail business. We handle all major repairs and special order work that the customers bring in.